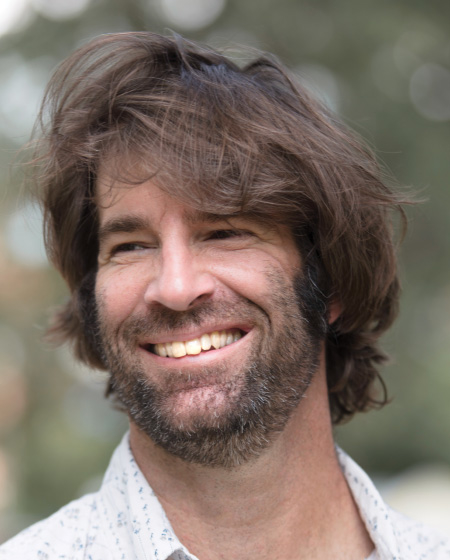 website
Mark Risius
Mark Risius is a creative writer, musician, improv comedian, and of course, an artist.  One of his favorite first memories of art is drawing a pterodactyl at age 6 (crayon on spiral bound notebook paper). Moving on from Jurassic period art, but still inspired by the natural world, he discovered his love for brushwork making aspen trees come alive against a sunset sky in oil on sandstone. Captivated by the atmospheric beauty and incorporating reflections on water, he expanded into his current style doing Soulscapes and Woven Canvas.
Soulscapes are created with the intention of connecting to the part of us that is deeply rooted in the eternal and gives birth to our more inspiring moments of serenity, awe, and wonder. In these, Mark enjoys the process, using long brush strokes and smooth blending. Soulscapes, especially with their grand scale, are very active and exciting to produce.
The Woven Canvas Collages further explore the imaginative process, transforming the Soulscapes into a unique genre of art. Mark's creative desire for distinctive aesthetics is evident in every aspect of these works from his choice of color and style to the crafting of the handmade wooden frames.
You can find Mark's work in his home studio in Boulder Colorado or year-round at The Denver Art Society in Denver and other local venues. Please email for an in-person tour. You can also find his work online at www.markrisius.com