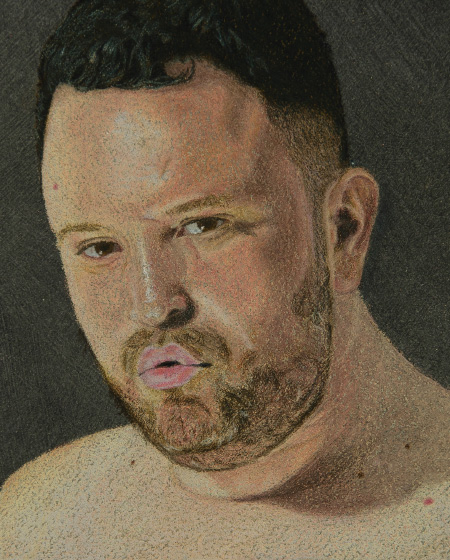 Louis Trujillo
Louis Trujillo was born and lives in Denver, Colorado creating works in his private studio and a shared studio at Art Gym Denver. His artwork is inspired by his dreams, his family, and his identity as a gay male. He received his B.F.A in drawing at Metropolitan State University of Denver where he was awarded the Nagel Art Thesis Grant and the Nagel Directed Studies Scholarship. He is a former member and PR Director of SYNC Gallery located in Denver's Art District on Santa Fe. His artwork is part of national private collections. He currently works at Art Gym Denver in Membership, Programs, Gallery and Social Media.
Artist Statement
Self love and acceptance is a daily practice for me because I have been nurtured to believe of myself as less than others. I am at a point in my life where I will stop putting value into negative opinions about me. My colored pencil self portraits are a reflection of this epiphany. The vulnerable images portray different aspects of myself that I was once ashamed of and now celebrate. They are the culmination of an experience that is undoubtedly shared by other gay individuals.
Growing up I was demeaned constantly because I enjoyed activities that society assigns to girls and as I began to go through adolescence I hid these interests out of shame causing me to become depressed. After "coming out" as a young adult and experiencing gay culture it became apparent that my femininity and body type were frowned upon by a majority of gay men. Inspiration for my work comes from Photo Realism, drag queens and the shift toward the inclusivity of all genders and body types in the fashion and beauty industry. Depicting different physical and emotional sides of myself allows me to come to terms with the way I look and act. Creating detailed renderings forces me to examine every part of myself including what could be considered flaws. The artworks reiterate my belief that all humans should be celebrated and accepted as themselves.
I open the platform for my audience to confront their own judgments toward individuals that they may not consider as equal to themselves. Realistic portraits help to start this conversation. With open minds society can move toward a future that is all inclusive.