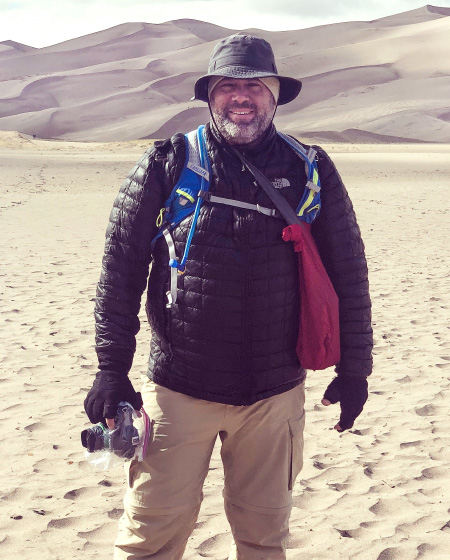 David Eichler
Like many photographers, I look at the world a little differently than most people. Imagine having that photo crop tool from Instagram in your head, 24/7. When you view the world through a frame, as I always have, you realize beauty and pictures are everywhere, surrounding all of us. Having battled bi-polar disorder my whole life, it is, nevertheless, challenging to believe that beauty is there for me. To be nourished by it. To enjoy it. Composing an image, adjusting the camera and pressing the shutter accomplishes just that.  It's as magical to me today as when I took my first pictures, at eight years old.
A photograph is light frozen in time. With no light, there is no image. The subject is irrelevant. It is the light that's falling on a Bison, the moon, a cactus, a Lake or a surfer which creates beautiful pictures. As the sun and earth tango around the sun, gradations of light, shadows and colors, spring to life. To me, the art and job of being a photographer is seeing this light and understanding how to harness it. The world is a beautiful place to be cherished and photographed right now, because none of us know what tomorrow's pictures will look like.
A little about each image.
Moon

–

Victor, Idaho. 7/2018.
The back side of the Grand Tetons. I almost didn't take this picture. I had been shooting for 12+ hours and driven hundreds of miles around Yellowstone National Park. I was dead tired. Then, I spotted the moon peeking over the horizon and scrambled to get set up in time for this image. I'm sure glad I did, even if the mosquitoes had me for dinner. I'm one of those people bugs love.
Surfer

–

Scheveningen Beach, Netherlands. 1/2019.
I returned to this beach, an hour outside Amsterdam, after getting some of my best shots ever, the year before. I was elevated on a pier and the windchill was in the teens. My gloves did little to help. My focus was on the Northeast so when I turned around the sun was harshly backlighting everything. So here I am thinking how cold it is when  this guy in his 60's appeared out of nowhere with his surfboard.  I've never surfed but I'm pretty sure that diving into those waves was as exhilarating for him as taking his picture was for me. Did I mention the water was 48 degrees? I hope he had a really good wetsuit.
Stanley Lake, Idaho. 7/2018.
On the same photo safari as the Moon shot, I pulled into Sun Valley for the night. I needed my next destination and discovered Stanley Lake online, but it was 90 mins away. If I was going to get the picture I wanted, the water had to be like glass, which meant being there right after sunrise. I've never been a morning person but that's frequently when the best images are captured so I scraped myself out of bed at 4:00 AM to get there just in time.  The drive through Northern Idaho is stunning.
Bison

–

Rocky Mountain Arsenal National Wildlife Refuge, Denver. 12/2017.
I was like a kid on Christmas morning, when I woke up and saw the snow dumping. I couldn't wait to track down the Bison herd at Arsenal. The brutal conditions were rewarded with about 20 of my best images that year.  Even with a telephoto lens, I was close enough that all 2,000 lbs. of this guy could have demolished me in the blink of an eye. Instead, he posed and "smiled" for the camera. There is nothing more sensational (and scary) when you know a wild animal is staring right into your eyes.
Cactus – Phoenix, AZ. Solar Eclipse. 5/2012
If you ever get the opportunity to view an eclipse from a special vantage point, do it.  In the case of this eclipse in 2012, the sun had just returned to its normal state, but we were in Arizona so how could I not grab some pictures of a cactus?  I did more to protect the camera's sensor from being damaged than my own vision that day. Stupid, but fortunately I emerged unscathed. What this Cactus shares in common with the Bison is the "anything for the shot" attitude I have been known for. No, my wife doesn't find it amusing.